Military watches are popular because they're simple.
Most military models, particularly vintage ones, follow the same template. They need to be legible, dependable and comfortable to wear.
So you'll find military watches usually have black dials, no clutter and are small, discreet pieces.
A Brief History of the W10 Military Watch
In the late 1960s, the British Ministry of Defence issued a specification for a general service watch. It was the recognisable DNA of a military watch at the time. A simple black dial, Arabic numbers and a hand-winding movement.
Tens of thousands of W10 watches were issued to the RAF and army, with the watch eventually being replaced by a quartz model.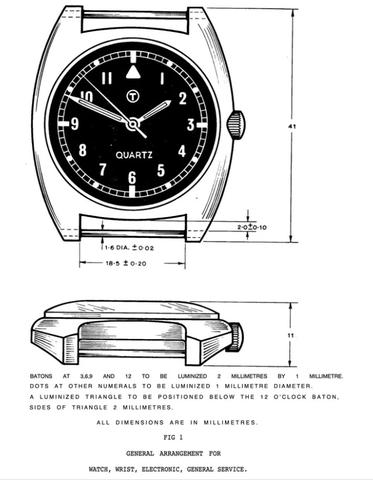 It's a notable watch, with a utilitarian appearance and featuring the crow's foot emblem on the dial. Although the watch hasn't been issued to the British Armed forces for decades, the design has remained popular.
And from all the world's military watches, there are some iconic designs. A great example is Rolex's Milsub. It's a classic watch that military watch collectors love.But it'll also cost you tens of thousands of pounds.
That's not realistic.
But what about more affordable models?
Baltany Is A Young Micro Watch Brand With Specialisation In Vintage Style Military Homages Like Nwc W10, G10 And Some Oither Vintage Flieger Series.  
We Have Strong Emphasis On Quality Control And Produce Watches Of Superb Finishing And Solid Quality. 
This model is typical of the brand. They've recreated a classic watch and released an unbranded automatic version-Baltany W10 36mm Retro British Air Force Pilot Watch. In this case, using the NH35A movement .
Baltany W10 36mm Retro British Air Force Pilot Watch is an iconic military watch, very popular with watch fans.
This Baltany W10 36mm Retro British Air Force Pilot Watch has a handsome military style, just like many versions have been sent to the British army. If you want to buy an authentic military watch at a super affordable price, then this watch is your best choice.
Baltany W10 uses sapphire arched glass, The appearance is loyal to the prototype G10 military watch, but we have improved the waterproof function, using screw-in crown and bottom cover, and excellent waterproof materials, waterproof to 100 meters, and has a dual-color luminous. , And the Swiss super luminous powder is used.
Upgraded luminous, using Swiss super luminous, 8 hours visible light, BGW-9 and retro two-color color matching, very beautiful.
The surface is made of anti-reflective titanium sand process, and the black watch is made of DLC process electroplating and special chemical plating.
This surface effect is harder to fade and more resistant to friction than other surface effects ,HD printed dial.
The Baltany W10 is a vintage military watch that pays tribute to the RAF W10 watches of World War II.
It have an improvement on the historical W10 watches by Hamilton, Cwc and Smiths.
Baltany W10 36mm Retro British Air Force Pilot Watch
Model: W10
Movement:Japan NH35 Automatic Mechanical Movement
Case material: 316L stainless steel
Case back: 316L stainless steel
Watch mirror:  Sapphire glass with AR coating
Water resistance: 100 m /10 ATM
Luminous: BGW9 and retro Super Luminova
Crown: Screw-Down
Case: Screw-Down Case
Case diameter: 36mm (without crown)
Case length: 42 mm( lug to lug)
Case thick:14mm
Lug width: 18mm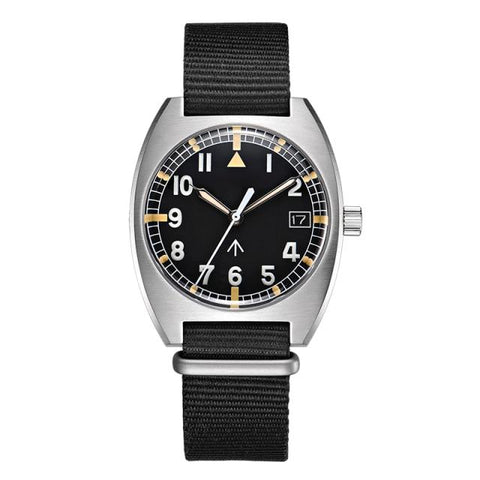 Swiss C3 and vintage yellow super luminous,The price of luminous powder exceeds 240,000/KG,The dial has been printed with luminous powder a dozen times to ensure the intensity of the luminous.
Our Baltany W10 36mm Retro British Air Force Pilot Watch is an iconic design. And it's more affordable than some other vintage models.For those who've served in the British military, it's a watch that will bring back a lot of memories.
So dig a little deeper and see if a Baltany W10 36mm Retro British Air Force Pilot Watch would be a good watch for you. I understand that it has a bold look and a case that is small by today's standards.
Retro is also a classic, fashion will not be repeated simply, but the plain and original beauty will never go out of style.​
We pay tribute to the past time, cherish the present, and look forward to the future. We want to draw inspiration from history instead of simply repeating it.
The following is picture of our customers feedback to us, you can also use it as a reference.